McGraw and Goldwin Smith Halls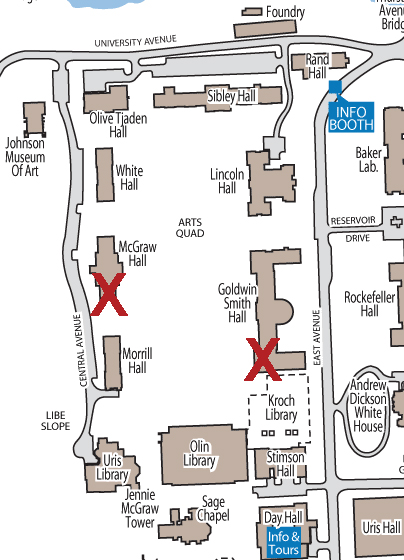 Both McGraw Hall and Goldwin Smith Hall are located on the Arts Quad. The Xes on the map show the locations of auditoriums in each building
Here is a link for an Ithaca map with directions to the intersection of University and Central Avenues which is the upper left corner of the map on this page.
The map is slightly out of date: What appears as a parking lot parallel to University Avenue is now a new building, Milstein Hall. The building actually extends across the road, and you drive under it.
The best place to park for either venue is along Central Avenue behind McGraw, but there is not much space in the evening, depending on what else is happening on campus. Other possibilities include the lots below Anabel Taylor and Willard Straight Halls, along Tower Road and the parking garage near Rhodes Hall (see the large campus map). Plan to arrive early and allow time to walk from wherever you can park.
For handicaped access or unloading at Goldwin Smith there is a pullout on East Avenue near where Kroch Library is on the map.
Handicapped access to McGraw Hall is via a ramp at the south end of the building, on the Quad side. Unfortunately there is no ramp from Central Avenue at McGraw. Drive farther down Central Avenue, toward the Library Tower, to access the sidewalk. Contact someone on the CFSS concert crew to arrange to use the McGraw elevator.
The Cornell Maps page has additional maps including some intended for printing.